Mass-produced microscopic sensors see the light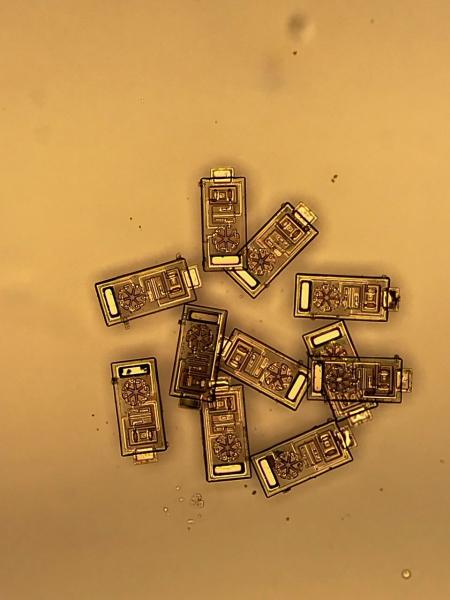 Theologians once pondered how many angels could dance on the head of a pin. Not to be outdone, Cornell researchers who build nanoscale electronics have developed microsensors so tiny, they can fit 30,000 on one side of a penny.
There's more to these tiny sensors than just their diminutive size: They are equipped with an integrated circuit, solar cells and light-emitting diodes (LEDs) that enable them to harness light for power and communication. And because they are mass fabricated, with up to 1 million sitting on an 8-inch wafer, each device costs a fraction of that same penny.
The team's paper, "Microscopic Sensors Using Optical Wireless Integrated Circuits," published April 17 in PNAS.
The collaboration is led by Paul McEuen, the John A. Newman Professor of Physical Science, and Alyosha Molnar, associate professor of electrical and computer engineering. Working with the paper's lead author, Alejandro Cortese, Ph.D. '19, a Cornell Presidential Postdoctoral Fellow, they devised a platform for parallel production of their optical wireless integrated circuits (OWICs) – microsensors the size of 100 microns (a micron is one-millionth of a meter), mere specks to the human eye.