CNF to Launch Cutting-Edge Matterport CNF Virtual Cleanroom Experience
CNF to Launch Cutting-Edge Matterport CNF Virtual Cleanroom Experience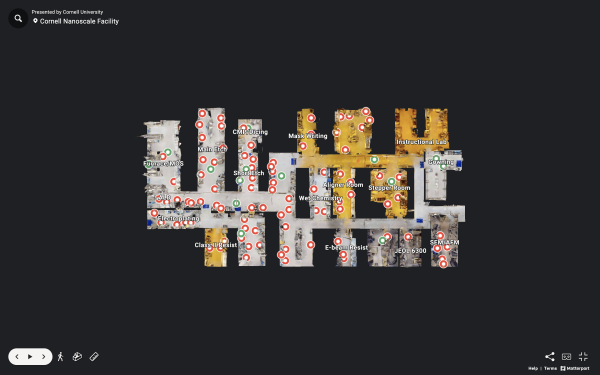 CNF to Launch Cutting-Edge Matterport CNF Virtual Cleanroom Experience
Syracuse, NY - Ithaca, NY - FOR IMMEDIATE RELEASE
Friday, September 1, 2023
The Cornell Nanoscale Facility (CNF) is set to launch the Matterport CNF Virtual Cleanroom Experience. This initiative is in collaboration with the New York State 4-H Program and will debut at the Youth Building during the upcoming New York State Fair on Friday, September 1, 2023.
CNF's Virtual Reality (VR) stand will feature two 55" monitors, inviting visitors to embark on an immersive journey into the CNF cleanroom. Attendees will have the unique opportunity to explore the actual cleanroom facility, gaining insight into cutting-edge nanofabrication processes. Complementing the experience, Nanooze magazines will be readily available for distribution, along with interactive scientific experiments where visitors can create and develop their own UV light detectors.
The Matterport Virtual Experience offers users a virtual walkthrough of the CNF Knight Laboratory cleanroom's interior. This interactive tour boasts an impressive 105 clickable annotations, providing comprehensive insights into the world of nanofabrication equipment. Some annotations are further enhanced with concise video tutorials, equipment descriptions, and area narratives. Each annotation includes comprehensive tool descriptions, complete with links to corresponding CNF highlights for a deeper dive into the science. The tour encompasses two captivating perspectives: a dollhouse overhead view of the entire facility and an engaging first-person walk-through. Participants also have the option to transform the experience into a fully captivating immersion by using VR headsets.
"The CNF virtual cleanroom experience marks a significant leap in bridging the gap between technology and education, offering individuals of all backgrounds the chance to engage with our cleanroom environment in a dynamic and educational manner. The development of this experience has been an exciting journey, unlocking novel educational avenues," shared Tom Pennell from CNF.
The development of the CNF VR Experience was made possible by Matterport's Pro 2 Camera which captured over 170 scan points, supported by the photography of Multivista. The Matterport 3D experience encapsulates four key facets: a video preview of the entire facility, HDR-enhanced photographs that meticulously capture key elements, a comprehensive floor plan offering an aerial view of each space, and a 3D experience digital twin accessible from any location.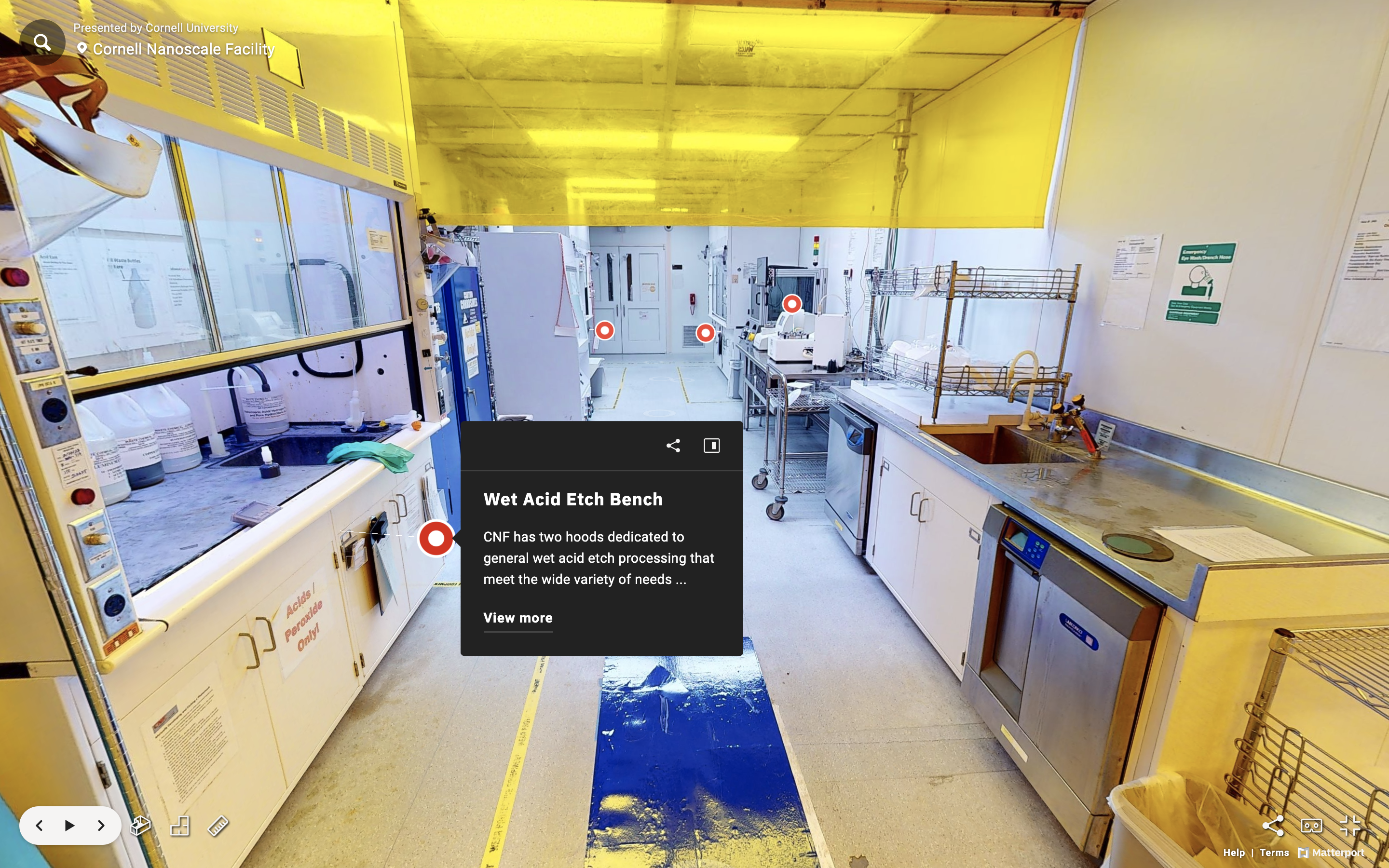 American Youth Development organization, 4-H, is dedicated to equipping young minds with the tools to excel in their educational, social, and professional journeys. In line with this mission, CNF is proud to present the 3D experience display at the 4-H youth stand, providing an enriching experience for young learners and future innovators.
"We anticipate continuous growth in the content based on user feedback. We invite you to reach out to Tom Pennell and Mac McMurdy for additional information and to contribute insights for further enhancement of this exciting new venture," stated Pennell at CNF.
The Matterport CNF Virtual Cleanroom Experience can be found at https://cornellcnf.link/virtual